Regular Office Hours
Monday
10 am - 5 pm
Tuesday
10 am - 6 pm
Wednesday
12 pm - 5 pm
Thursday
10 am - 6 pm
Friday
10 am - 4 pm
Saturday
CLOSED
Sunday
CLOSED
Statutory Holidays
CLOSED
Please be sure to check our Google Business Page (or Google Maps) for the most up do date business hours. Occasionally our hours will vary due to tournaments, special events or holidays.

Address:
#110-4441 76th Avenue SE (EAST BUILDING)
(parking lot entrance off 44th Street SE, see below for map)
Calgary, AB
CA, T2C 2G8
The CWSA office faces 44 Street and is on the South East Corner or the building. Our office is accessed directly from the parking lot
Phone: (403) 720-6692



For all general inquiries: office@mycwsa.ca
Jacquie Hertlein, Executive Director: execdir@mycwsa.ca
Rosie Johnson, Office Administrator: office@mycwsa.ca
Derek Wooldridge, League Coordinator: derek@mycwsa.ca
Brenna Rutt, Bookkeeping: office@mycwsa.ca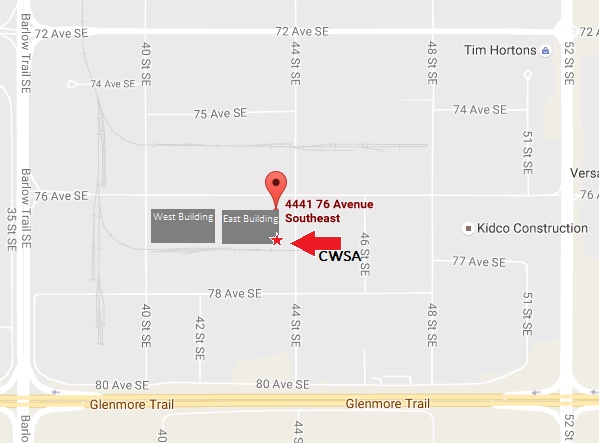 We are at the corner of 76 Ave and 44 St SE. If you're coming off of Barlow N, turn left down 76 Ave, right down 44 St and right again into our parking lot …. We are the very last office door, at suite 110. Our parking lot and office door are facing 44 St. SE.